June 2011 – You Are Ready!
You are ready! The rest of your life is in front of you. Everything you have done up to this point has prepared you for who you are today.
You have the potential to be, do and become whatever you want in the future. It starts today, right now, in this very moment. All you have to do is acknowledge yourself and your ability to create you life the way you want to create it.
If you found out you only had a short time to live, what would you do? What would make your heart sing? What would give you joy?
Make a list of those things that are really important to you and start today to do those things. Check them off your list and notice how much better you feel.
There is no better time than today — right now, this moment — to do whatever brings you joy.
Our world has lived long enough in fear, in negativity, in blame and in feeling that we are somehow less than who we really are.
We talked before about "who are you?" and offered some exercises to uncover the real you.
The real "you" is the soul, spirit or true self that came into this world filled with infinite potential. Somewhere along the way, many of us got 'taught' that we weren't good enough or wouldn't be successful, or whatever else people laid on us when we were young.
As adults, we now have a choice to let those old ideas go and be who we really are.
You are ready — today, tomorrow and every day in your future — to be your true self. You have made it this far in your life and NOW is the time to step forward into your magnificent glory as the true you.
We wish you joy and happiness and all that you can create for yourself this month.
Don't follow anyone else's path. Be courageous and create your own path for you life. It's YOUR life, so make the most of it.
A few reminders from one of our favorite authors: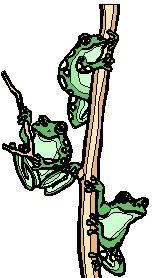 Do not go where the path may lead, go instead where there is no path. ~ Ralph Waldo Emerson

Enthusiasm is one of the most powerful engines of success. When you do a thing, do it with your might. Put your whole soul into it. Stamp it with your own personality. Be active, be energetic, be enthusiastic and faithful, and you will accomplish your objective. Nothing great was ever achieved without enthusiasm. ~ Ralph Waldo Emerson

Great people are those who see that the spiritual is stronger than the material and that thoughts rule the world. ~ Ralph Waldo Emerson
Which frog are you?
One of Michael Anthony's favorite stories:
There were once three frogs sitting on a log. One of them decided to jump.
How many frogs were left on the log?
. . . Read the book to find out the answer.
If you are thinking about creating sources of income, new business ideas or exploring expansion of a existing business, our book Income Without a Job has some great creative ideas and exercises to assist with that. The book is a great gift for friends who have been laid off or need extra support during these times.
This page is http://www.income-without-a-job.com/news/jun2011.htm